Shirfu David September - South Africa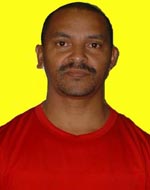 I started my martial art career at the age of thirty when I was introduced to Mr. Lan in 1985. At the school I received training in Shaolin chuan [northern and southern]. I trained very hard for two years to reach my Shi Heng title. The next year was spent with private tuition from Mr. Lan. I earned the title of Toh-Yee (first Degree)

In 1990 I graded to receive the title of Si-Pak (third Degree) and a junior instructors certificate. For the next two years on this level doing lots of refining the techniques (gardening). I was then introduced to Dr. Lin with whom I trained Hsing Yi.
In 1994 I met with a Chinese coach in Wushu and Tai Chi, Liang Dong Sheng. He taught us wushu basics, Tan Chuan as well as Nan Chuan. This was my introduction to the flair of Chinese Martial Arts. I also completed a Judges and Referee Course with certification. In the same year I had to do another referee and judges course with Kuoshu rules. In 1995, I graded to Shi-boh (fifth Degree) and received the rank of senior instructor. The next few years were spend doing more refining (gardening).
In 2000 I realised that your training should be balanced and I started to shift the emphasis to internal cultivation to establish internal and external equilibrium. I had an opportunity to go and train with Liang Dong Sheng in Mauritius for ten days. During this time I had also established branches in Somerset-West and Stellenbosch. I also received a certificate as a Junior Tai chi instructor and instruction in Chi Kung, which opened a new phase in my martial arts career. My martial art experience with Mr. Lan of over 16 years came to a cross road in March 2003 and I left to forge my own way.