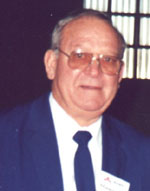 Joe van Rensburg started training in January of 1989 at the ripe age of 55. He obtained his brown belt under Kancho Eddie Cave and tested for his Shodan in December of 1994. He obtained Provincial Colours in 1992 competing in the 45+ Age Division placing first in Kata and 2nd in Kumite.
When his former Sensei stopped training around 1995, he took over the running and teaching of the Southfield dojo and has continued its operation and now has an additional branch dojo at the Buck Road Primary School.
He is currently enjoying being "retired." In 2001, he was promoted to 4 Dan Black Belt.